Christian "El Duende" und Helga
dance and teach close-embrace "Tango de Salón", like it has been danced since the golden days of tango in Buenos Aires. The harmony of the couple, the elegance of walking, a good embrace and musicality are much more important than spectacular effects. Their dance is inspired by the music and is improvised and not a predefined choreography. This makes each dance a unique experience.
Beside tango, they also dance "Tango Vals" and "Milonga con Traspié" in their particular way, distiguished by rhythmical varieties which need only a very small space
For Helga and Christian, tango is a language - to them, dancing tango means communicating very sensitivly with the partner. The tango basics they teach in their classes and workshops are not only interesting for tango beginners, but also for the far advanced dancer. They do not teach rigid figures to memorize, but very small elements and the structure of tango. Through intensive bodywork and communications excersises, they get their students to improvise from the very beginning and to develop their own ways to express themselves through the dance. In short: They teach the vocabulary and the grammar - the story has to be written by the students themselves.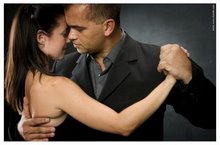 Helga and Christian got their Tango education in Buenos Aires from the Argentinian top couple Mario Bournissen and Eugenia Martínez. This is one of the reasons why improvisation, musicality as well as leading and following techniques are very strong points in their teaching.
For many years, they have traveled to Buenos Aires for longer periods, looked at the style o teaching of various, internationally known tango teachers and danced in the crowded Milongas every night. However, it is more important to them to develop their own style of dancing.
They teach in German, English and Spanish.
Contact
Christian and Helga Seyb
eMail:


www.el-duende.de
www.youtube.com/elduendetango
www.facebook.com/EstudioElDuende
+49.89.12227785
+49.171.7597719
Biography as PDF document